OFFICIAL TOWER RACE 2006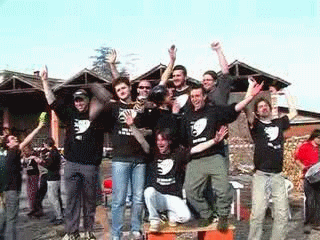 HIIIII HAAAAA!

IT IS READY THE VIDEO OF THE OFFICIAL TOWER RACE 2006! (DIVIDED INTO SECTIONS OFR YOUR CONVENIENCE).

THE FIDELITY VIEWERS WILL NOTICE THE LACK OF INTRODUCTION SCENES, PECULIARITY OF THE PAST EDITIONS. DON'T WORRY, THEY WILL BE BACK AS USUAL IN THE NEXT "UNAUTHORIZED" TOWER RACES AMONG BANFATABROTHERS&CO.! THE REASON IS THAT THIS TIME WE REALLY WERE TOO MANY AND IT WOULD HAD BEEN A WORKING/OF TIME MESS!
As usual noobs: click on the screens to see the races through YOUTUBE
or right click on the picture of the race/ save object with name / ecc. ecc. to download on your harddisk.





Click HERE to download a software to view our videos.





INTRO + RACE 1



INTRO + RACE 1
dimensions=19,7 MB
file format=DivX

RACE 2
RACE 2
dimensions=11,3 MB
file format=DivX

RACE 3
RACE 3
dimensions=14,5 MB
file format=DivX

FINAL RACE
FINAL RACE
dimensions=10,9 MB
file format=DivX

CHAOS
CHAOS
dimensions=18,2 MB
file format=DivX

And here some pictures